Dr. Chardonnay Vance, MD, PhD
Medical Director, Telehealth Champion, & Mother Hen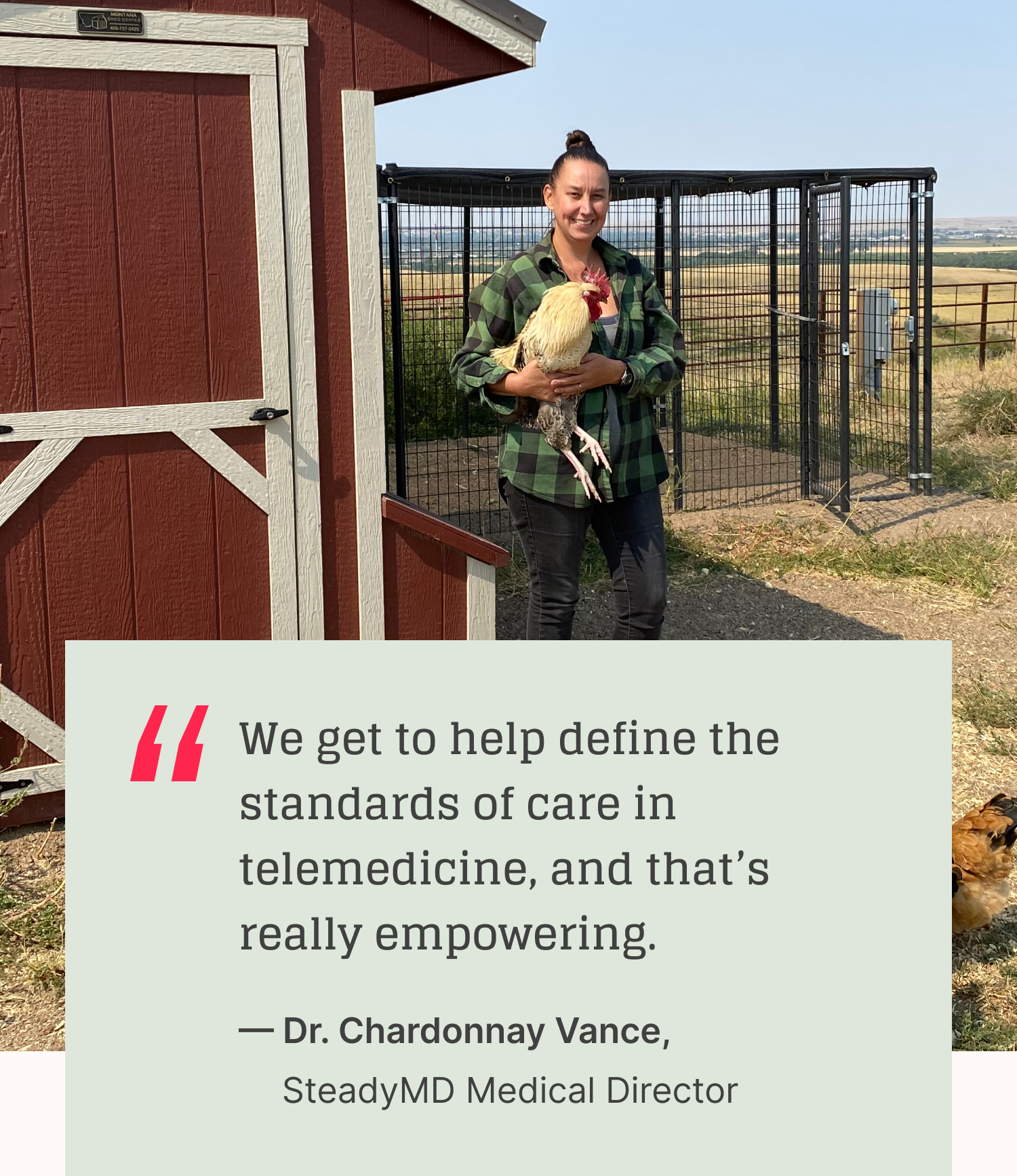 We sat down with SteadyMD's Medical Director of Clinical Programs & Quality, Dr. Chardonnay Vance, MD, PhD, who has been working with SteadyMD since 2020. She shared the story behind why she made a career shift from traditional medicine to telemedicine, how she's helped shape SteadyMD's corporate culture and clinical protocols, and her guiding principles for operating a successful telemedicine service that benefits both patients and clinicians.
Tell us a little bit about your journey and how you got to where you are today.
My introduction to medicine began while I was practicing as a lay midwife many years ago, which inspired me to go back to college. Later, in graduate school, I worked closely with radiologists, MRI engineers, and transplant surgeons. Together, we were really trying to push the edges and go deeper when it came to studying the human placenta and diseases specific to pregnancy. Toward the end of my graduate school work, I decided that — in order to really make an impact — I would need to go to medical school, so I did.
My work as a midwife exposed me to the culture of medicine, and all of the studies, roles, and patients I've served since have helped me truly flesh out and understand the full spectrum of medical care and treatment. I've worn many hats throughout my career, which is something I bring to the world of telemedicine. When working with this virtual modality, you have to be able to think creatively and critically in real-time to truly understand the full scope of your patient's condition and identify how to treat them. This kind of outside-of-the-box thinking isn't necessarily always taught in medical school.
I was also given access to some of the most brilliant thinkers and laboratory groups throughout my educational journey and was incredibly lucky to work under Prof. John Broadhurst at the University of Minnesota, Prof. Bruce Ames at UC Berkeley, Prof. Gary Glover at Stanford, and Prof. Matthew Corriere at Wake Forest.
"My time in academia has profoundly informed my perspective of medicine as it stands today."
What initially drew you to the idea of working in telehealth?
I was first drawn to telehealth because I wasn't satisfied with the "big box" medicine that I transitioned into after residency. I initially joined a small private practice that ended up being big box medicine in disguise — that is, it followed the typical protocol of churning through as many patients as possible in order to keep the lights on. Some of this approach is driven by corporations, but in order to survive in primary care as a family medicine doctor, a lot of the little independent practices tend to take on that big box mentality, which was a real disappointment for me. I had these idealistic hopes of what a small, independent family practice was supposed to look like and quickly learned that it just wasn't the case for the vast majority of primary care clinics. That said, I do understand the reasons driving the big box mentality and value the groups that I have practiced with, as I know they are simply doing their best to survive.
Now, in a strange twist of fate, digital healthcare has enabled me to treat patients at big-box volume without losing the crucial patient-provider connection. On a typical shift I can treat 10 to 15 patients per hour, efficiently and safely. I can reach people from our inner cities to the frontiers of our rural landscapes. I can treat someone's urinary tract infection and follow all the guidelines of family practice standards, while only costing the patient a small fraction of the price and time of an in-person appointment. And the patients who are benefiting from these new models of care are so appreciative. It makes me feel like the vibrant spirit of old-fashioned family medicine is alive again and that excites me!
What eventually led you to SteadyMD? What is your role at the company?
I initially learned about SteadyMD a few years before I joined. In 2018, I was trying to transition away from full-time clinical work and in-patient medicine. While searching around for other options, I joined a mailing list for alternative careers for doctors, which put numerous telehealth providers on my radar. That's when I saw SteadyMD. I was immediately interested, but at that point, the company was still focused on direct-to-consumer primary care provided digitally, while I was looking for something more episodic, such as digital care shift work.
Once SteadyMD pivoted to its current B2B model and began powering other platforms, I joined the team. At first, I only worked a few hours at a time, but in April 2021, I took on a much bigger role at the company and worked with our Chief Medical Officer Dr. Josh Emdur to launch one of our most exciting new partner programs. We both didn't know exactly what the future would hold for the company, but I was one hundred percent all in. I was able to do what was best for my patients, and I was more than happy to be a part of the next frontier of medicine.
Since then, I've taken on the full-time strategic role as one of SteadyMD's Medical Directors, where I oversee clinical programs and clinical quality.
"I help define our clinical protocols and help build out our big picture ideas."
I'm proud of the work we've done and continue to do here. It takes an entire clinical team to refine our processes, and through our collaborative efforts, we've been able to establish four key guiding principles that SteadyMD holds front and center:
1. We put the patient first in every single interaction
2. We protect the clinician-patient relationship
3. We meet or exceed the standards of in-person care
4. We foster a culture of a duty to report and aim for continuous self-improvement
While these principles capture the spirit that medicine attempts to operate by, it's actually very hard to enact them in a corporate setting. Since SteadyMD is still in the growth phase, I feel like I really get to help create the culture of this new sub-specialty in medicine. In a sense, it's kind of like the Wild West. We get to help define the standards of care in telemedicine, and that's really empowering.
What's the main benefit of telemedicine that separates it from traditional medicine?
Traditional medicine is still very strict, rigid, and hierarchical, which in my opinion, isn't the healthiest or most efficient way to run a healthcare practice. One of my main focuses in my role at SteadyMD is to ensure this is a place where people want to come to work and put their best foot forward everyday.
Medicine is a very physically- and emotionally-draining field, and telemedicine is no different. We're always thinking about how to make the structure of medicine as supportive and comfortable for the clinician as possible, knowing that such efforts and a happy workforce will always translate to better care and experiences for the patient. SteadyMD has the ability to set this precedent in telemedicine, and we're always finding new ways to support both the patients and our clinicians simultaneously to foster this culture. When implementing new strategies and guidelines for the company, my mind thinks in the voice of the patient, which helps make my job as a Medical Director much easier — especially when I'm faced with a difficult decision.
"Whenever I'm confused, I always start with 'What is best for the patient?'"
In telemedicine, we create very well-defined workflows for specific problems. It's my job to implement the proper safeguards and protocols to help steer a happy, virtual workplace environment for all our practitioners.
What do you like to do for fun when you are not working?
I am currently raising a flock of 27 chickens with my husband and two kids. We enjoy their antics. It's funny; I barely even notice how loud they are anymore. Sometimes, I'll take an internal work call on my front porch and the person I'm talking to will point out the chickens they can hear in the background. I like to think of my chicken coop as a hobby farm. We give some of our eggs to neighbors, and we also sell the eggs at local farm stands. Our next project will include a Jersey cow, so we can start providing eggs and milk to our local community.
Outside of my home, I like to go for long hikes and spend time in nature to get away from the noise. I also like to read and to daydream. I enjoy the simple things in life and can spend all day just watching the clouds in appreciation.